I have been auditioning salmon teriyaki recipes for years and have never seemed to satisfy my son, Yale's, discerning taste… until now! This one is IT!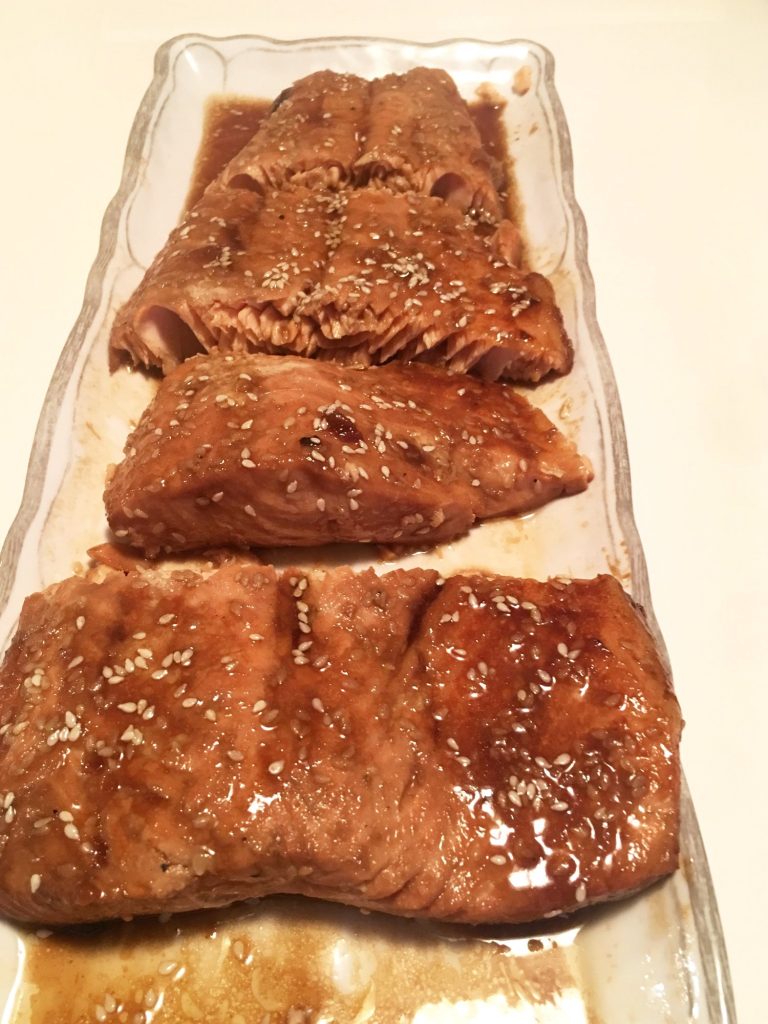 Ingredients:
1/4 cup sesame oil
1/4 cup lemon juice
1/4 cup soy sauce
2 tablespoons brown sugar, or more to taste
1 tablespoon sesame seeds
1 teaspoon ground mustard
1 teaspoon ground ginger
1/4 teaspoon garlic powder
4 X 4 ounce salmon fillets, or 1 1/4 pounds of salmon filet
Adjust the amount of marinade depending on the amount of salmon that you are using.
Marinade stores in the refrigerator for up to 3 weeks.  
Directions:
Mix sesame oil, lemon juice, soy sauce, brown sugar, sesame seeds, ground mustard, ginger, and garlic powder in a small saucepan over low heat. Bring to a simmer, stirring until sugar has dissolved. Set aside 1/2 cup of marinade for basting.
Pour remaining marinade into a resealable plastic bag and place salmon into the marinade. Squeeze air out of the bag, seal, and marinate the salmon steaks for at least 1 hour (2 hours for better flavor). Drain and discard used marinade.
Set oven rack about 4 inches from the heat source and preheat the oven's broiler. Place salmon steaks into a broiler pan and broil for 5 minutes. Brush steaks with reserved marinade, turn and broil until fish is opaque and flakes easily, about 5 more minutes. Brush again with marinade.