This wonderful recipe is from one of my favorite cookbooks, The New Kosher, by fellow Canadian, Kim Kushner. It is as delicious as it looks!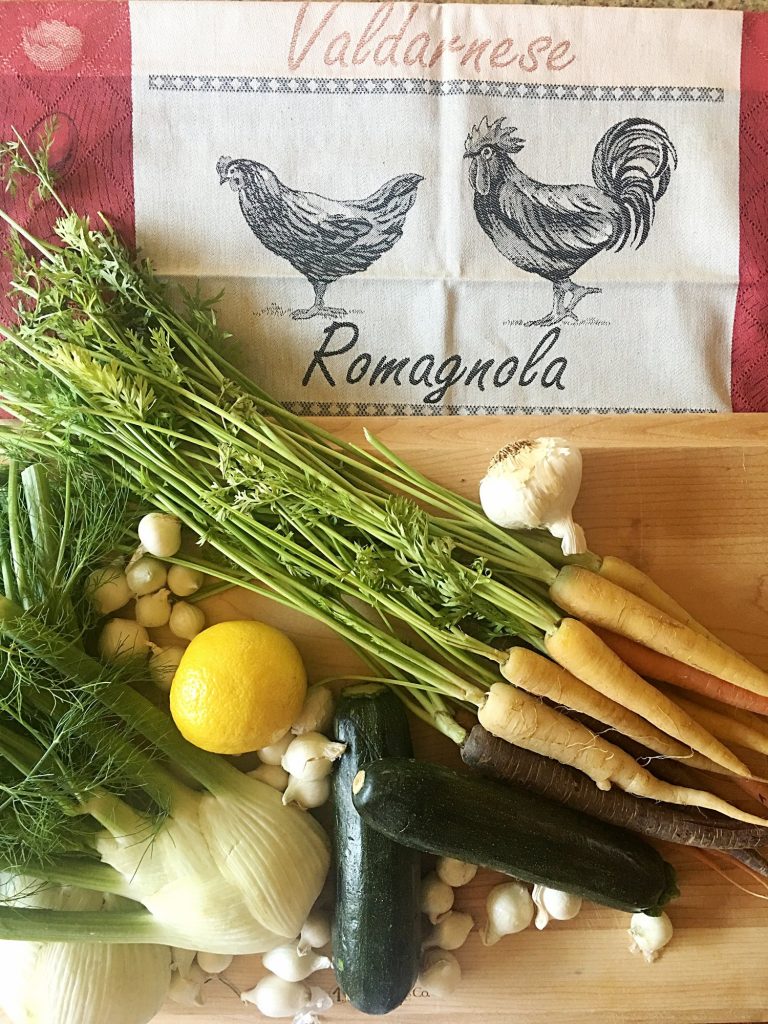 Ingredients:
1 head of garlic
1 teaspoon of extra virgin olive oil, plus more for drizzling
1 lemon
1 chicken, about 3.5 pounds
kosher salt and freshly ground pepper
1 bunch of fresh thyme
1 tablespoon of sweet paprika or sumac
1 teaspoon of dried basil
5 carrots, peeled and sliced
1 fennel bulb, trimmed, cored, and thinly sliced
1 handful of pearl onions peeled
Directions:
Preheat oven to 400 degrees and have a large roasting pan nearby.
Cut 1-inch off the top of the garlic head; do not discard it. Place both garlic pieces on a piece of aluminum foil and drizzle with the one teaspoon of oil.
Wrap the foil over the garlic, enclosing it completely and set aside.
Cut the lemon in half and squeeze the juice into the cavity and over the outside of the chicken. Reserve the lemon halves.
Generously season the cavity and the outside of the chicken with salt and pepper. Stuff the lemon halves and thyme inside the chicken; place the chicken on a stand.
Sprinkle the paprika and basil over the outside of the chicken, using your hands to spread them all over.
Place the stand with the chicken in the roasting pan. Surround with the carrots, zucchini, fennel, and onions. Place the foil-wrapped garlic in the pan. Drizzle a little bit of oil all over the vegetables.
Roast for 1 hour. Reduce the oven temperature to 325 degrees and roast until the chicken is golden brown and the juices run clear when a skewer is inserted into the thickest part of the thigh, about an hour longer (if you would like to keep the chicken and vegetables warm, turn off the oven then keep them in the warm oven for an hour longer).
Once the chicken is cool enough to handle, take it off the stand and discard the lemon halves and thyme.
Cut the chicken into serving pieces. Unwrap the garlic and squeeze the cloves over the chicken to release the golden, roasted deliciousness.
Transfer the chicken and vegetables to a serving platter.